This post may contain affiliate links, which means I'll receive a commission if you purchase through my link, at no extra cost to you.
PINTEREST HASHTAGS
A topic much loved, feared, admired and ignored.
Call it what you may, there is a reason Pinterest introduced hashtags.
To help the platform understand the content better.
If you are already on Instagram you probably have some idea of how it works.
On Pinterest however, hashtags help the platform rank and analyze your post pushing the most relevant to the top of the search query.
In this post, we'll talk about
why you need hashtags, how and where to use them and best practices.
a complete Pinterest SEO video tutorial, in the end, to help you nail your Pinterest traffic goals!
[convertkit form=2049862]
PINTEREST TRAFFIC RESOURCES
Before we look in much detail into the post here are two of my favorite resources for new bloggers to maximize reach, boost traffic and income using Pinterest.
WHY SHOULD YOU CARE ABOUT HASHTAGS?
Just like on Instagram you maximize discovery by using the right combination of hashtags, it's EXACTLY the same.
You want to use the most relevant hashtags that solve the reader's query and direct them to your pin or your post.
Win-Win eh?
HOW TO USE HASHTAGS ON PINTEREST?
While finding and using keywords are essential for a pin description, they can also be an excellent way to find hashtags.
You can start by using 5-10 HIGHLY RELEVANT hashtags. Pinterest best practices suggest using a maximum of 20 so be sure not to go overboard.
In my opinion, anything more than 10 makes your pin look a bit too spammy and may be considered or flagged as spam.
Before you finish uploading your pin, your description, your blog post URL you want to add 5-10 relevant hashtags to help new pins rank in Pinterest search.
[irp posts="13901″ name="The Ultimate Pinterest SEO and Rich Pins Guide"]
What's the easiest way to do it?
Let's take an example. In this example, your blog post is about "keto recipes" and you're looking for relevant hashtags for the same. 
Step 1: Insert your primary keywords in the Pinterest search bar.
Step 2: Identify and note down 5-10 appropriate keywords.
All the content search tabs that pop up are KEYWORDS that can also be used as hashtags.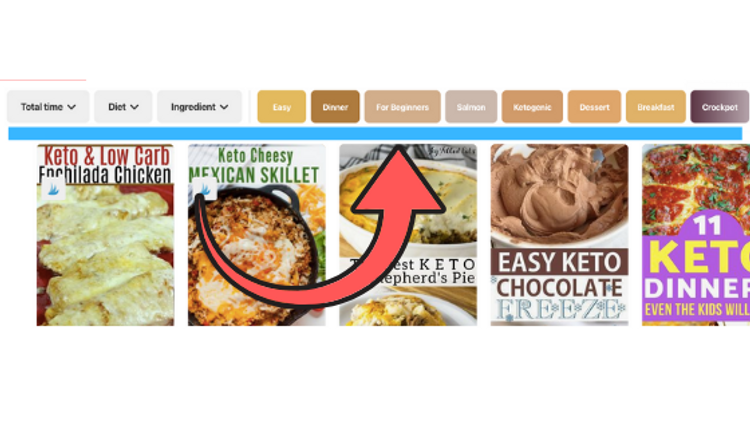 Step 3: Add the keywords as hashtags to your pin description.
Take a moment to let that sink in!
Easy and so powerful right? What other platform gives you the EXACT information you need to write to be discovered?
HOW TO NATURALLY ADD KEYWORDS IN YOUR PINS
If you want to go one step further, you would ALSO want to make sure that your keywords/hashtags are optimized in your pins.
When you upload a pin to Pinterest, you will need to write a pin description in addition to adding a URL.
The ideal description will-
1) Be 150-200 words long.
If your description is longer than this, it will get cut off in the feed and well people won't get the point of your pin. You want to make sure you summarise the 2-3 most important things about your blog post in this section. Anything longer is not necessary and will only bore and/or irritate the person reading it. The longer version is in the blog post, let them get to it!
A good way to think about is to add-> Blog Topic -> What/Why
2) Describe keywords and solutions in a natural manner.
When you search Pinterest for personal users you use it as a human would. What would a person type in to find the blog post you just wrote about?
When you think of keywords that way, they are much less scary and make for easy discovery. You should focus on keywords that are popular in the niche but also make them natural looking. Just like for Google SEO, you don't stuff keywords, do NOT stuff keywords in Pinterest either.
What's the easiest way to find keywords for your pin?-> PINTEREST SEARCH
Just type in 2-3 different variations of your keywords and note down the suggestions Pinterest gives you. Be sure to use the MOST relevant ones as that gives Pinterest information on what type of content you share.

PINTEREST SEO TUTORIAL
Since Pinterest hashtags and keywords are so closely related to Pinterest SEO, I took the liberty of adding a detailed tutorial on helping you make your pins and boards SEO-friendly.
Make sure to watch until the end!
I hope you learnt something new in this post.
[convertkit form=2049862]
If you'd like a step by step approach to learning and mastering Pinterest to increase your blog's traffic, subscribers and income, then you should check out my course:
Save the post for later!