This post may contain affiliate links, which means I'll receive a commission if you purchase through my link, at no extra cost to you.
In this post, you will learn what are group boards, how to join them and why you need to join them.
In the end, you will also find 150+ free Pinterest group boards that you can join right away!
What are group boards?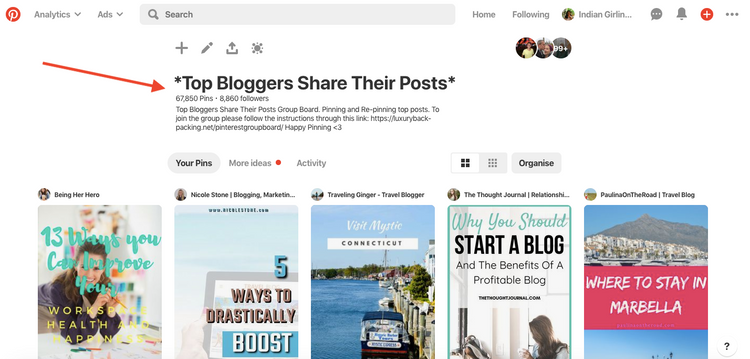 Group boards are essentially boards where more than 1 contributor posts content and shares content from each other.
Group boards can have anywhere from 1 to 5000 contributors. They can have anywhere from 5 to 5 Million followers.
To increase your traffic you need to IDENTIFY & JOIN the most relevant group boards for your niche.
I highly recommend having group boards that are a mix of:
Niche Boards: For example, if you are a food blogger, you want to look for group boards that focus on food, recipes or any other sub-niche that you blog in.
General Niche Boards: Some boards are an "all you can post" type of boards. These boards have a mix of varied bloggers but are less effective when it comes to maximizing your traffic compared to blog niche boards.
The absolute thing you should AVOID doing is:
Join spammy boards with low-quality pins. Don't. Just DONT.
Join boards in niches that are not at all relevant to your blog. For example, if you only blog about travel, do NOT join a mom blogger group board or a fashion blogging board UNLESS you also post content related to those topics.
It's not just enough to join ANY group board that comes your way. NO.
[convertkit form=2049862]
Be strategic about the group boards you apply to and join and stay in so that you can work on creating a long-term, sustainable Pinterest traffic strategy.
How To Join Group Boards?
Step 1: You can use the tool Pingroupie to find group boards in your niche.
Step 2: As a beginner, I would suggest searching for ones with >5000-10000 followers so that you can maximize your reach.
Step 3: Collect 50 emails and send out about 20-30 emails per month until you are a part of at least 50 group boards.
This should be an ongoing activity done once per two months.
Step 4: Be patient, wait and watch! About 50% of the request you send will just be lost in outer space.
But soon enough, you'll see payback for all the effort you put in! 😉 
Here's a draft of what I usually send out as a DM/email depending on the board requirements.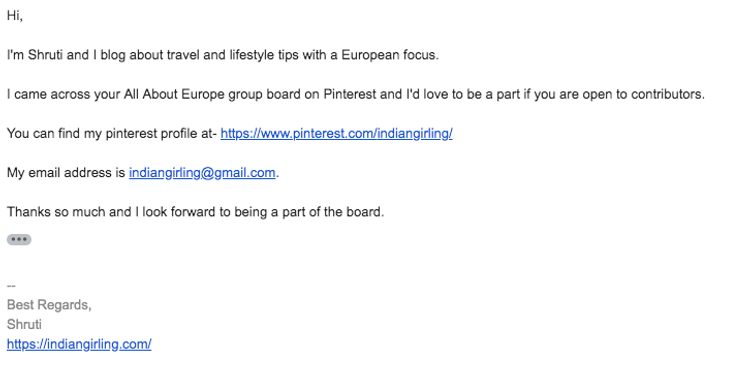 Another way to join Pinterest group boards is to simply search for boards on Pinterest and go one by one to see how you can join.
Check out this video to see how this works in action.
How many group boards is too many?
No amount of group boards is too many as long as they are:
You want to join as many boards as possible that are highly relevant and manageable by you on a daily or weekly basis.
Conclusion: You need to nail your group board strategy if you want to multiply traffic and visibility on Pinterest.
[convertkit form=2049862]
HOW TO GET TRAFFIC ON PINTEREST USING BOARDS
Building traffic on Pinterest needs CONSISTENCY.
This means that even if you don't necessarily write 1 new blog post per day, you need to trick Pinterest into thinking you do!
How do you do this? Easy.
Save your own content to group boards and other's content to personal boards.
While you are busy pinning even if it's only for 10 minutes per day, don't just go about randomly adding anything anywhere.
Use your pins and pin them to → GROUP BOARDS
Use other's pins and pin them to → PERSONAL BOARDS
You can also add your own pins to your own boards but you would have likely done that already when you first added your pin right? If not, DO IT.
What this does is that it gets your content out to the world and creates fresh content for your personal boards making Pinterest see you as a highly engaged and valuable user.
This increases your domain and profile quality which as we learned earlier is VERY important!
[convertkit form=2049862]
THE ULTIMATE GROUP BOARDS LIST
GROUP BOARDS: GENERAL/ALL NICHE 
BLOGGING & MARKETING
DIY & CRAFTS
BUSINESS 
FASHION 
BEAUTY 
HEALTH & FITNESS 
PARENTING/MOMMY 
PERSONAL FINANCE 
RECIPES 
TRAVEL 
[convertkit form=2049862]
So there you have it the ultimate guide to join, find and maximize your group board strategy.
Need more Pinterest marketing resources to grow your traffic and blow up your business?
Before you go, here are other Pinterest marketing tips you should check out: